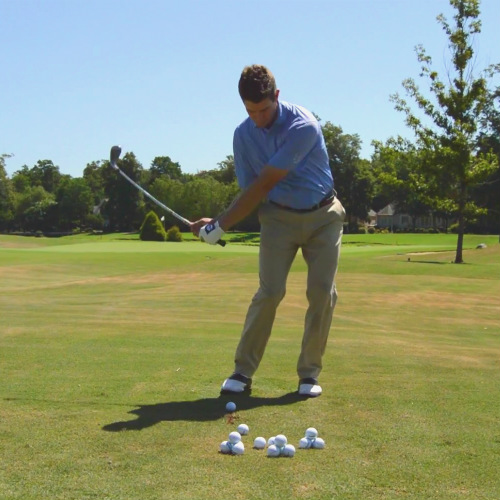 Ben Hogan always said, "The secret is in the turf." In the following video, featuring Providence Country Club's Justin Mathers and Kevin Reardon, turf paint is used to illustrate proper contact.
The red line represents where the ball lays on the turf. By painting a line and hitting balls that lie directly on top of the line, it allows the student to identify where the contact took place. You'll note in the video that a thin shot typically takes little to no turf. A heavy or fat shot will always happen when the club enters the turf behind the painted line. A well struck, or solid shot will be executed by hitting the golf ball first then followed by the club entering the turf on the target side of the painted line.
To hit proper chips/pitches, do your best to have a flat left wrist at impact for righties, and flat right wrist at impact for lefties. If you feel as though your hands are in front of the club-head at impact, you'll most likely be in the correct position to execute proper and solid contact. When you look at the impact with the paint you'll instantly get feedback, thus the secret is no longer undisclosed.