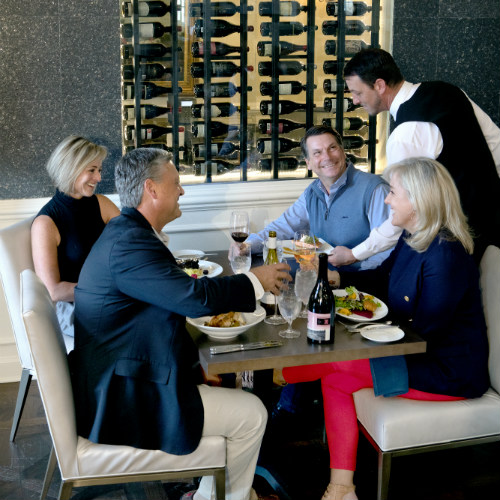 Updated dining spaces at Providence CC bring members together.
Think of your favorite place to hang out. What makes it feel so good? I'm guessing it's a few familiar faces, inviting décor, and a comfortable setting that suits your lifestyle. When done right, a space lends a sense of belonging, a homecoming, to all who enter.
A Gathering Place
To achieve this, the dining rooms at Providence needed to be reimagined. As General Manager Howard Murphy explains,"We needed a larger social gathering place at the club."
"On busy Friday nights, we couldn't accommodate casual diners in the bar and there wasn't a great place to grab a drink midday, or meet with a larger group for happy hour."
The original spaces hampered flow between the bar and larger dining area and, while cozy, a club with 800 members needed more than four giant barstools.
The dining area's name has changed to reflect its new life. "Table 16 signifies a modern dining offering, and it's 16 because that is the year John McConnell purchased the property," Murphy explains.
"The adjoining Preston Room comes from Mr. McConnell's middle name." The project was personal for the owners, more than just by name. Dr. Rebekah McConnell led the interior design effort.
Table 16 is anchored by a beautiful 20-foot, 16-seat central table that just so happens to be located in the exact same space as the original table number sixteen. Serendipitous, don't you think?
While the modern, open space creates the perfect setting, the food is what brings members through the door and Executive Chef Jason Neal keeps them on their toes with inventive fare.
Join Us for Dinner
"I try to bring trends to the club and keep things fresh," says Neal, "We offer the classics, but add a twist – like transforming shrimp and grits into a grit cake with tasso sauce. That's how we build a following."
To support the larger casual dining area, the bar menu has been extended to midnight on Friday, Saturday, and Sunday. Additionally, tapas-size portions are offered so diners can try and share several items.
"The Bang Bang Shrimp has been most popular thus far," reports Neal. "It's perfectly sweet and spicy."
A shiny new space or not, consistency in the private club realm is paramount day in and day out. So how does a chef foster creativity and keep his culinary team inspired?
"Every Friday, we compete," says Neal, who has worked in restaurants for 20 years. "If you've seen the television show Chopped, the format is very similar. There's a secret ingredient that the team must work with. There are three dishes each week. The winner is the dish that sells the most. The members get to try something new each week, as does our team in the kitchen. It's a win-win."
Familiar Faces
"Hello, good to see you Mr. Johnson!"
"Hi! You as well ... what's on tap?"
"There's a seasonal from Olde Mecklenburg that I think you'll like. Wanna try?"
This is the conversation Clubhouse Manager Steve Windham wants to hear more often. With a larger bar, he's expanded beer and liquor selections as well as added nearly 80 wines. To spark dialogue between patrons and staff, Windham decided to try simple chrome beer taps.
"It's important that we're able to keep up with trends," he says, "We want to offer members their favorites but also give them the opportunity to try something new."
Providence member Otis Davis enjoys the expanded wine list. "We look forward to Wine Down Wednesdays at the club," he says. "The half-off bottles are a great excuse to explore."
It's these offerings that help solidify the club's role as the social hub of the neighborhood — a space for families, and a meeting place for friends and colleagues before or after heading across town for a sporting event or show.
"While the first-class facilities were the primary reason we joined, the staff really makes the club special," says Davis. "I brought the whole family for Thanksgiving and our server Alayne was just fantastic. Our experience that day really made me proud to be a member."
For club traditions to live on, keeping facilities in tune with member needs is crucial. Providence's broad-sweeping improvements have delivered diverse spaces for everything from wine and tapas, to card games, to yoga and kids' activities. And to that we say, "Cheers!"