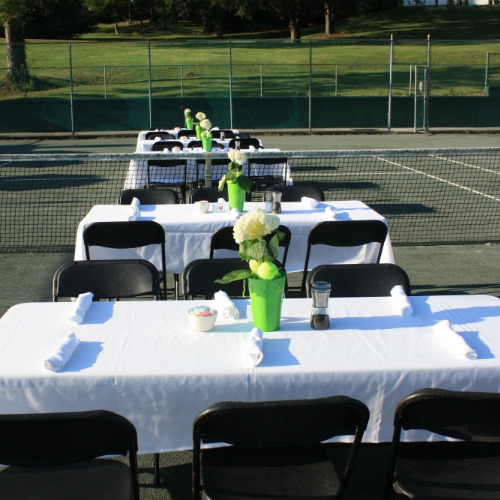 Game, set, dinner!
Exhibition matches have long been a celebrated occasion across the tennis facilities of McConnell Golf; however starting last year, a new twist was added — members can enjoy great food, service, and entertainment right on the court.
"What can be better than dining under the stars while watching local collegiate and professional tennis players compete?" asks Kyle Thortsen, director of tennis operations. "These Dining on the Courts events are a night for the entire family to enjoy."
In Charlotte, members said "Hola!" to a Mexican-themed menu and matches from local tennis pros.
One of the most exciting matches was the Battle of the Sexes. Former Director of Tennis Eric Winn and current Head Tennis Pro Josh Oxendine represented the men. The women's team included former Director of Junior Tennis Ana Ruzir and camp counselor Morgan Ingram, who currently plays at UNC-Asheville. The women put up a good fight, but the men prevailed 6-3.
"My husband and I had such a great time at Dining on the Courts," says member Claire Daniels. "The food was fabulous, and watching the pros play was absolutely a highlight. This was a new, great way to enjoy the club."